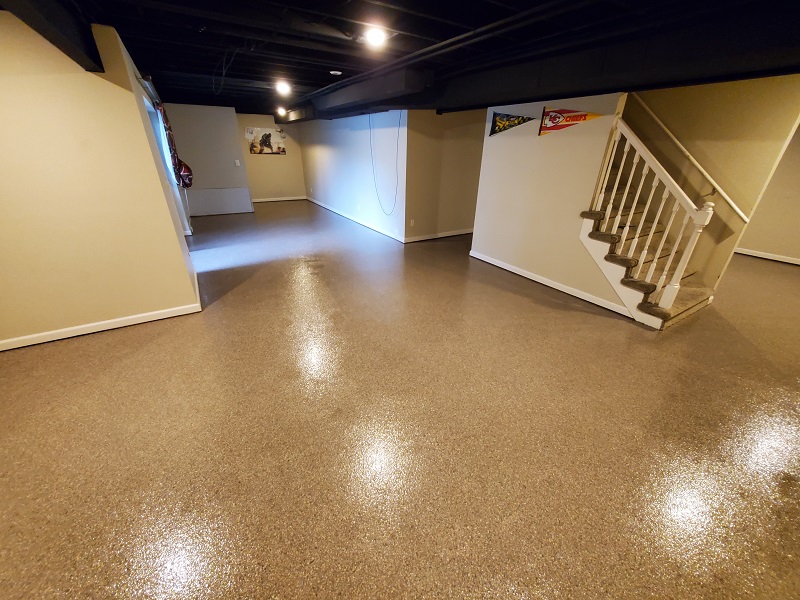 Epoxy flooring is an excellent choice when you need strong and durable flooring for a basement finishing or remodeling project. Epoxy coatings are normally applied over concrete floors to provide a high-performance, smooth, and durable surface that can last many years and withstand heavy loads.
More and more homeowners are installing epoxy floors in their basements. Epoxy floors combine form and function, with an amazing array of color and style options that protect even high traffic areas for many years. Though residential epoxy flooring is more expensive initially than some other options like concrete paint or stain, it more than pays for itself in longevity, as paint or stain requires more frequent maintenance and repairs.
Epoxy flooring can easily be applied over concrete. Self-leveling products make it possible to install epoxy over either new or existing concrete surfaces. The thickness of the epoxy can be customized to meet the specific needs of different facilities. It does require a clean and porous surface to adhere properly. Elite Epoxy Floors preps all floors with a grinding machine equipped with diamond heads, a virtually dustless process. Concrete slabs should be cured fully in order to apply our epoxy flooring. It is also important to patch major cracking and chips on the concrete surface.
Epoxy floors provide optimal strength and durability and are known for their long lifespan. They are up to seven times stronger than concrete. And when repairs are needed, they can be completed without replacing the entire floor. Once installed, it will withstand many chemicals, resist stains, and offers very high durability.
An epoxy sealant can be installed with textures that make the surface less slippery. This is essential in a basement with a workshop or playroom. Since epoxy floors are seamless, they also provide a hygienic surface which is recommended by regulatory agencies like the USDA and FDA. They resist oil stains and water, and can easily be cleaned and disinfected which translates into less time and money spent on routine maintenance.
Epoxy flooring is a popular choice for finished and partially finished basements not only because of the beauty and ease of care but for the water-resistance. Epoxy easily weathers an occasional bar spill, washing machine leak, or spring flood with a simple mopping up.
For more information about epoxy flooring, call Elite Epoxy Floors at (816) 729-7143. To request a free quote, click here.